Brandschutz -Fachtagung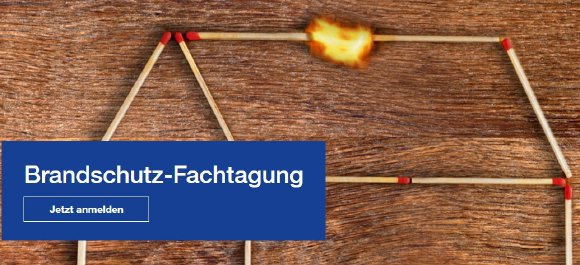 orbeugung ist der beste Schutz vor Feuer!

Ein effektiver Brandschutz, unter Berücksichtigung baulicher, anlagentechnischer, organisatorischer sowie effektiver abwehrender Maßnahmen, ist für Unternehmen unerlässlich. Die Folgen von Brandschäden sind oft immens: Nach Angaben der deutschen Versicherungswirtschaft verursacht jeder dritte Brand in der Industrie Sachschäden von mehr als 500.000 Euro. Zudem drohen Personenschäden und Rechtsprozesse.

Brandschutz ist vielschichtig und unterliegt daher vielen Anforderungen von Gesetzen, Vorschriften und Richtlinien, wie z. B. den Feuerwehrgesetzen und Bauordnungen der Bundesländer sowie zahlreichen weiteren Gesetzen, Verordnungen und Richtlinien.

Bedingt durch die gesetzlichen Anforderungen und Schadenereignisse aus der Vergangenheit sowie Weiterentwicklungen ergeben sich praxisbezogene Brandschutzkonzepte.

Unserer Brandschutz-Fachtagung 2021 bietet beispielhafte Einblicke in die Praxis und ein Forum, in dem Sie mit Fachleuten aus unterschiedlichen Bereichen Erfahrungen austauschen und Lösungen diskutieren können. Unsere kompetenten und praxiserfahrenen Referenten sowie der Moderator stehen Ihnen zur Diskussion und zur Beantwortung Ihrer Fragen gern zur Verfügung. Freuen Sie sich auf zwei informative Tage und ein gemeinsames Abendessen.

Ein Highlight der Fachtagung wird wie jedes Jahr eine interessante Fachexkursion sein, die dieses Jahr die Wichtigkeit von Brandschutz in einer Brauerei vor Ort zeigt.

Lassen Sie sich überraschen und weiterbilden. Der Fokus der Themen liegt wie immer auf der praxisnahen Umsetzung im Unternehmen.
The publisher indicated in each case is solely responsible for the press releases above, the event or job offer displayed, and the image and sound material used (see company info when clicking on image/message title or company info right column). As a rule, the publisher is also the author of the press releases and the attached image, sound and information material.
The use of information published here for personal information and editorial processing is generally free of charge. Please clarify any copyright issues with the stated publisher before further use. In the event of publication, please send a specimen copy to
service@pressebox.de
.