BMA: Verantwortliche Person nach DIN 14675 für Brandmeldeanlagen (TÜV)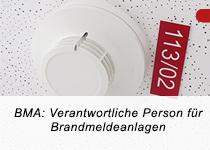 Vorbereitungsseminar zur Personenzertifizierung Verantwortliche Person BMA, früher Hauptverantwortliche Fachkraft Brandmeldeanlagen nach DIN 14675

Die Schulung dient der Vorbereitung auf die Prüfung zur "verantwortlichen Person für Brandmeldeanlagen nach DIN 14675 vor einer akkreditierten Zertifizierungsstelle. Die Teilnehmer erhalten das zum Bestehen der Prüfung notwendige Wissen. Herstellerunabhängig und neutral! Die Prüfung kann direkt im Anschluss an das Seminar (3. Schulungstag) beim TÜV-Rheinland abgelegt werden.

Die Prüfungsbedingungen finden Sie unter "Prüfungsvoraussetzungen" im Schulungsflyer.
The publisher indicated in each case is solely responsible for the press releases above, the event or job offer displayed, and the image and sound material used (see company info when clicking on image/message title or company info right column). As a rule, the publisher is also the author of the press releases and the attached image, sound and information material.
The use of information published here for personal information and editorial processing is generally free of charge. Please clarify any copyright issues with the stated publisher before further use. In the event of publication, please send a specimen copy to
service@pressebox.de
.