Der neue Knöchelgelenksfuß EchelonER: Wasserfest, Absatzhöhenanpassung und 25° Bewegungsumfang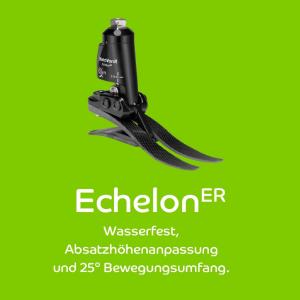 Referent: Adam Baier, Blatchford Europe GmbH

Zusammenfassung:

Das neue hydraulische Knöchelgelenk EchelonER ergänzt das Echelon-Sortiment von Blatchford, indem die einzigartigen Merkmale und die preisgekrönte Technologie des Echelon Karbonfederfußes mit einem erweiterten Bewegungsumfang kombiniert wurden. Dank einer völlig neuartigen robusten und wasserfesten Konstruktion sorgt der erweiterte Bewegungsumfang des EchelonER dafür, sich noch besser den Bodenbeschaffenheiten anzugleichen, auch besonders steilen Schrägen und unebenen Untergründen. Durch die Fähigkeit sich verschiedenen Absatzhöhen anzupassen, haben Anwender mehr Flexibilität bei der Schuhauswahl und ein nahtloser Übergang zum Barfußgehen ist möglich.

 
The publisher indicated in each case is solely responsible for the press releases above, the event or job offer displayed, and the image and sound material used (see company info when clicking on image/message title or company info right column). As a rule, the publisher is also the author of the press releases and the attached image, sound and information material.
The use of information published here for personal information and editorial processing is generally free of charge. Please clarify any copyright issues with the stated publisher before further use. In the event of publication, please send a specimen copy to
service@pressebox.de
.