"Ausbildung 2021 – in Zeiten von Corona – das geht!"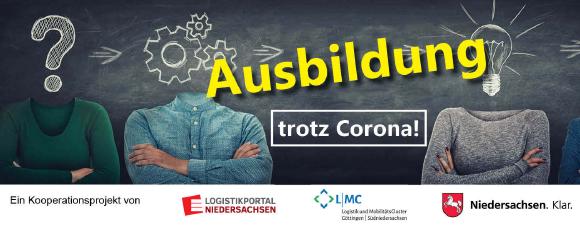 Die Gewinnung, Ausbildung und Bindung von geeignetem Personal ist und bleibt eine der größten Herausforderung der logistikaffinen Unternehmen. Der Fachkräftemangel kann zu einer Gefährdung der Wettbewerbssituation und des Wachstums der Logistikunternehmen führen. Insbesondere die aktuelle Corona-Pandemie stellt Unternehmen bei der Nachwuchsgewinnung vor neue, zusätzliche Herausforderungen!
"Ausbildung 2021 – in Zeiten von Corona – das geht!"
steigen Sie mit uns am 17. März 2021 von 10:00 bis 12:00 Uhr gemeinsam in das Panel der "Ausbildungsmacher" ein. Ziel der Veranstaltung ist es betroffenen Unternehmen zu zeigen, wie trotzt Corona Pandemie Ausbildung gelingen kann - dies mit Impulsvorträgen und spannenden Praxisbeispielen, die konkrete Lösungsansätze bieten! Abschließend bietet die Veranstaltung den Teilnehmern im Online-Chat genügend Zeit für Fragestellungen und zur Diskussion.
Weitere Informationen zu der Veranstaltung sowie Anmeldemöglichkeiten finden Sie unter:
https://www.xing.com/events/ausbildung-2021-zeiten-corona-3274759
Die Veranstaltung findet online, live sowie dialogorientiert statt und bietet die Möglichkeit Fragestellungen rund um das Thema "Ausbildung 2021 – in Zeiten von Corona – das geht!" zu diskutieren. Die Teilnahme an der Veranstaltung ist kostenfrei.
Die Veranstaltung ist ein Kooperationsprojekt des L|MC Logistik und MobilitätsCluster Göttingen | Südniedersachsen und dem Logistikportal Niedersachsen (LPN) e.V. im Rahmen des
Paktes für Logistik
.
Das L|MC hat sich als aktives Netzwerk zur Aufgabe gestellt, die Logistikregion "Mitte D" weiter als leistungsfähigen und effizienten Standort überregional zu gestalten und konkurrenzfähig auszubauen. Eine besondere Aufgabe des Clusters ist es, Fachkräfteinitiativen zu unterstützen, um somit den drohenden Personalmangel in dieser Branche entgegenzuwirken.
The publisher indicated in each case is solely responsible for the press releases above, the event or job offer displayed, and the image and sound material used (see company info when clicking on image/message title or company info right column). As a rule, the publisher is also the author of the press releases and the attached image, sound and information material.
The use of information published here for personal information and editorial processing is generally free of charge. Please clarify any copyright issues with the stated publisher before further use. In the event of publication, please send a specimen copy to
service@pressebox.de
.