Auftaktdiskussion PowerWeek Kommunikation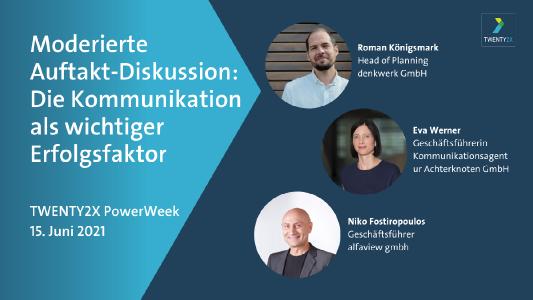 Niko Fostiropoulos, CEO der alfaview gmbh sowie der alfatraining Bildungszentrum GmbH, eröffnet mit weiteren Vertreter*innen aus der Wirtschaft mit einer Auftaktdiskussion über "Die Kommunikation als wichtigen Erfolgsfaktor" den zweiten Tag der TWENTY2X PowerWeek, die kompakte Informationen zu aktuellen Themen der Digitalwirtschaft liefert.
The publisher indicated in each case is solely responsible for the press releases above, the event or job offer displayed, and the image and sound material used (see company info when clicking on image/message title or company info right column). As a rule, the publisher is also the author of the press releases and the attached image, sound and information material.
The use of information published here for personal information and editorial processing is generally free of charge. Please clarify any copyright issues with the stated publisher before further use. In the event of publication, please send a specimen copy to
service@pressebox.de
.