6. Norddeutscher Qualitätstag am 8. Juni 2021: Praxisforum für das Prozess- und Qualitätsmanagement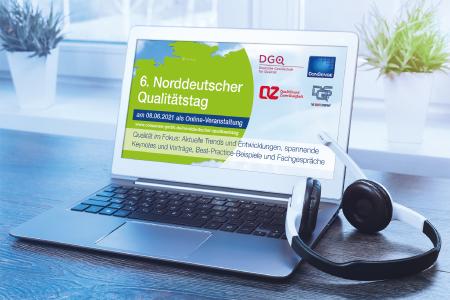 Der Norddeutsche Qualitätstag, das Praxisforum rund um Prozess- und Qualitätsmanagement, lädt ein: Am 8. Juni 2021 findet das beliebte Branchentreffen für den Norden bereits zum 6. Mal statt. Und weil die Veranstaltung, wie im vergangenen Jahr, als Online-Event konzipiert ist, haben Praktiker weit über den Norden Deutschlands hinaus die Gelegenheit, von frischen Impulsen und wertvollen Tipps sowie intensivem Erfahrungsaustausch mit Experten und Gleichgesinnten zu profitieren. Veranstalter sind die ConSense GmbH, einer der technologisch führenden Anbieter von Software für Qualitätsmanagement und Integrierte Managementsysteme, gemeinsam mit ihren Kooperationspartnern die Deutsche Gesellschaft für Qualität e.V. (DGQ), die Deutsche Gesellschaft zur Zertifizierung von Managementsystemen (DQS) sowie die Fachzeitschrift QZ Qualität und Zuverlässigkeit.
Große Auswahl spannender und praxisorientierter Branchenthemen
Die Teilnehmer des 6. Norddeutschen Qualitätstags erwartet ein umfangreiches Programm aus Vorträgen und Workshops mit Beispielen aus der Praxis rund um das Prozess- und Qualitätsmanagement. Die Themenvielfalt ist breit gefächert: In seiner Keynote unter dem Titel "Schluss mit Folgeterminen und Wiedervorlage – Schneller Entscheidungen im QM bekommen" beschreibt Managementtrainer Georg Jocham den Weg zu schnelleren Entscheidungen im QM. Im Workshop-Angebot, aus dem sich die Teilnehmer ihr individuelles Programm zusammenstellen, geht es um praktische Umsetzungen und den unmittelbaren Austausch. Die Themen reichen unter anderem von Arbeitssicherheit im Homeoffice über exzellenten Kundenservice bis hin zu kollaborativem Arbeiten auf virtuellen Whiteboards. Wer sich eher für Nachhaltigkeitsformate und Lieferkettengesetz, Reifegradmodelle oder Remote Audits interessiert, findet auch hierzu die passende Workshop-Session. Im Abschlussforum der Veranstaltung werden die erarbeiteten Ergebnisse der Workshops zusammengetragen und dem Plenum vorgestellt.
Von Wissenstransfer und Austausch profitieren
Der Norddeutsche Qualitätstag hat sich als einzigartige Plattform für branchenübergreifende und umfassende Methodenkompetenzen rund um das Qualitätsmanagement längst etabliert. Teilnehmer schätzen die umfassenden Informationen zu neusten Trends, Entwicklungen und Ereignissen rund um das Thema Qualitätsmanagement sowie den Austausch mit Experten – jetzt sogar weit über den Norden hinaus.
Zur Anmeldung und zum detaillierten Programm für das Online-Event 6. Norddeutscher Qualitätstag 2021 am 8. Juni 2021 geht es hier: 
https://www.consense-gmbh.de/norddeutscher-qualitaetstag/
The publisher indicated in each case is solely responsible for the press releases above, the event or job offer displayed, and the image and sound material used (see company info when clicking on image/message title or company info right column). As a rule, the publisher is also the author of the press releases and the attached image, sound and information material.
The use of information published here for personal information and editorial processing is generally free of charge. Please clarify any copyright issues with the stated publisher before further use. In the event of publication, please send a specimen copy to
service@pressebox.de
.